Would you know what to do if some had a heart attack?
Could you even recognise that someone was having a heart attack?
The West Midlands Ambulance Service will be at the Village Hall on Wednesday 28th October to train anyone who wants to attend. The session is free and starts at 10:30am, please be prompt. Contact Mike Thompson  (tel:838) if you're attending or have any questions.
The training is part of Ashford Carbonel's AED scheme. The aim of the scheme is simply, namely to save lives in Ashford Carbonel and surrounding area.  In the event of someone having a heart attack volunteers have access to Automated External Defibrillators (AED) to defibrillation as soon as possible. This scheme does not replace the 999 service and is in fact co-ordinated by the 999 control centre.
If you're interested do come along, you don't have to commit to volunteering to be part of the scheme.
Why is this a good idea?
Each year, 135,000 people in the UK die from Sudden Cardiac Arrest. The condition can strike anyone at any time – young or old; fit or not. That's more than breast cancer, lung cancer and AIDS combined. The recent high profile experience of Bolton Wanderers footballer Fabrice Muamba helped bring this to the public attention – and the life saving value of an AED.
It is estimated that 85% of sudden cardiac arrest victims could be saved by rapid access to an AED. For every minute a patient is delayed in receiving defibrillation – their chances of survival drop by 10%.
All emergency frontline ambulances are equipped with defibrillators and are manned by staff trained to use them. But even though they're likely to provide the best first response to an emergency, time is of the essence when someone suffers a cardiac arrest. So the need for schemes such as ours in Ashford Carbonell, and these vital machines, couldn't be greater.
What is an AED ?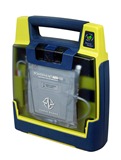 Modern portable Automated External Defibrillators ( AED ) have made defibrillation a much simpler process than in the past, and only basic training is needed to use them effectively.
They're designed to be used by members of the public, and are very effective at guiding the operator through the process of administering a shock.
They are widely available, safe and easy to use, and won't allow a shock to be given to a victim who doesn't need one.
Ashford Carbonel AED scheme
We are in the initial stages of setting up the Ashford Carbonel scheme. We're taking advice from similar schemes in Shropshire as well as the West Midlands Ambulance Service and the British Heart Foundation. We have our own AED and have installed a cabinet for the AED on the outside of the Village Hall. This means that the AED will be available 24 hours a day 7 days a week.
We'll create a web page for the scheme to keep everyone updated.